 Work allocation and reporting software that works
Time management software
SoleTM provides user-friendly real-time tracking, workflow optimization, and comprehensive reports that simplify processes for stakeholders and enhance overall workforce productivity.
SoleTM is an easy-to-use time management system that makes work time allocation easy, quick and transparent. The system is developed in close cooperation with Finnish higher education institutions to seamlessly fit the needs of educational sector. SoleTM ensures that work time management as a whole can be done effortlessly in one convenient and safe system.
SoleTM helps trasform ineffective hours into productive work time. Documenting and allocating working hours as well as managing work hour balance are made easy. Approvals, electronic signatures and financial reporting reduce tedious paper work by streamlining processes.
Build a service package that best meets the needs of your organisation's processes and APIs. SoleTM team is by your side to help your organisation with integrating SoleTM with your HR and payroll administration systems as well as assisting your organisation in your day-to-day work when developing work time management processes.
SoleTM
Supports planning by facilitating work hour allocation to different projects, responsibilities and tasks
Offers a clear picture of working hours
Displays work hour balance in real-time and enables quick and easy management of working hours
Can be integrated with HR, financial administration, identity and access management systems as well as data warehouses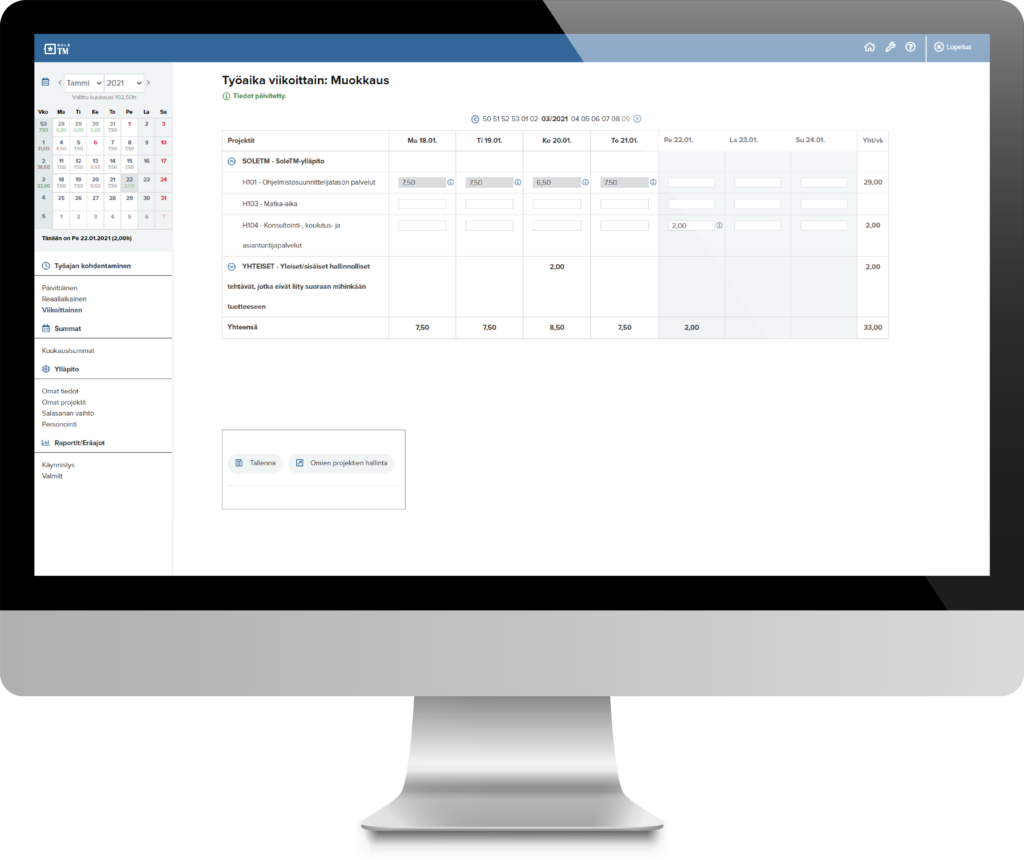 starting at 700 €/month
The system is delivered as an easy to use and reliable SaaS service. SoleTM functions independently and can also be integrated with other Solenovo products.
Would you like a free demo
of our software?
Solenovo's professionals are ready to design and produce better software services.